Steve's family is having a "Celebration of Steve's
 Life" memorial on Friday, August 11 at 4:00 in the PM. It's at his sister and
 brother-in-laws house, Gary and Kelly Troxel in Lafayette. If anybody would
 like to go I'm sure they would be more than welcome. His family has asked
 for anyone who has pictures of Steve to bring them and post them to a
 picture board they are displaying. I am taking a picture of Steve from Sheep
 Ranch right after he had been anacanapenad and standing at attention
 covered in shaving cream! It is perfect for this occasion believe me. I know his
 family well and if anybody else has same bring it with you. (in good
 taste of course) Just have whoever would like to go send me an email that they
 will attend and I will forward them the info.

Steven Allen Swearingen
May 10, 1955 - July 18, 2007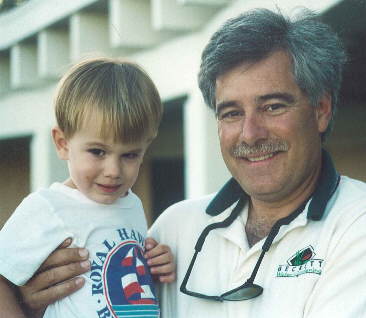 Former Resident of Lafayette Steve passed away peacefully on Wednesday, July 18 at the age of 52 surrounded by his wife and family, who loved him dearly and will miss him greatly. Steve was the devoted son of Bill and Kathy Swearingen, the beloved husband of Michelle, loving brother to Bill Jr., sister Kelly, brother-in-law Gary Troxel and adored uncle to their two boys, Ryan and Tyler. A long time resident of the east bay, Steve had close ties to the community and was very popular among his wide network of friends, who will miss him dearly as well. Born on May, 10th, 1955 in Portland, Oregon, Steve's family moved to Lafayette in 1957, where he grew up before heading off to Butte College near Chico, California. After college, Steve returned to the area residing in parts of Walnut Creek. Steve enjoyed working with his brother, Bill (in sales) for many years, and recently became a real-estate appraiser, which he loved. In 1994, Steve met up with his former high school classmate, Michelle Billing, whom he married July 12th 1997. Steve was a great guy and extremely popular among his cohorts. His friends will always remember Steve by one of a dozen nicknames he was fondly called by and which, in turn, he had for each of them. Steve was an avid outdoorsman and adventurer who for decades treasured his annual fishing trips to Wildhorse, Nevada with his father, Bill. In his early twenties, Steve spent several seasons trapping King crab in the Bering Straights off the coast of Kodiak Island in Alaska, surviving one of the most dangerous jobs in the world only to succumb to cancer at the early age of 52. Steve was a very proud and strong man, but also a sweet man without an enemy in the world. His family and friends will always wonder why such a great guy was taken from us so early. Surely he is smiling down at us now. The Swearingen family would like to thank Dr. Rakesh Bhutani and the wonderful professionals at Kaiser Hospital in Walnut Creek for their gallant efforts in trying to save Steve's life and making his final days as comfortable as possible. We were blessed with five more years of his life following his diagnosis of both leukemia and lymphoma cancer in 2002.
For more information contact Brian Goy