TG Home Page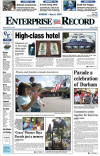 Wild Pioneer Days Parade just a memory
May 8, 2005

By MANDO NAVARRO - Chico Enterprise Record Staff Writer

Debbie Gutman reflected on what the Pioneer Days Parade used to be like while she held 16-month-old Kylie back from running into the streets when the horses galloped by Saturday.

"It was a huge deal back then," said Gutman, 33, who has been coming to the parade for more than 10 years. "(Now), it is more family oriented."

Gutman remembers how many Greeks strolled next to their distinctive and creative floats, which always turned into a fun competition. She also remembers many marching bands, and pug dogs running in the street.

It was a lot different back then, she said, but perhaps the change is good. As a parent, Gutman said this event brings the community together without having the craziness of college students running a parade.

"It's something different to come out and see," she said.

The parade, which drew about 4,000 viewers downtown Saturday morning, has been a Chico tradition many locals look forward to every year. Gutman marks it on her calendar and goes with a group of friends.

And though it is different now, Gutman is used to celebrating this event and will continue to come year after year.

When the parade was canceled in 1987 and 1990 and then turned into the Celebration of People Parade in 1996, Gutman said Chico just wasn't the same without the famous Pioneer Days Parade.

"I missed going to the parade," she said. "We were excited when it came back."

The parade was renamed its traditional moniker in 2002.

Dan Lipuma, a Chico State University graduate, also remembers what the Pioneer Days Parade was like when he was attending the university. He remembers when the Pioneer Days Festival was put to a halt after a lot of violence during the week-long festival led to a protest of the parade in 1990.

As he sat with his 5-year-old son Andrew Saturday, he said he is not upset about the changes, because now his kid can enjoy the parade.

And Andrew had his eyes locked on what he considered his favorite part of the parade.

"I love the horses," he said while sitting on a curb next to The Underground, "I don't know why."

If it wasn't for his son, Lipuma probably wouldn't have come, he said. The event is more geared toward kids.

Before he was a father, he remembers a lot more floats and most of them were all distinct, he said. It was more lively, and there was a lot more going on.

"There's a lot of space in between floats not a lot of college kids," he said. "It's all about the community."

Lipuma said he misses the crazy floats. He wishes there was more effort put into the displays, because it is primarily just a lot of businesses walking by with poster-sized advertisements.

Even with the slight disappointment, Lipuma will continue to come because his son enjoys it.

For some, this was their first time experiencing the traditional Chico parade, which featured many entertainers, like the Pleasant Valley High School band, Brownies on Bikes, belly dancers, Corning Kidettes, a girls' dance club, Amber English, a regular baton-twirler at parades, and Tau Gamma Theta, which displayed a big American eagle and a tractor that held a member inside the bucket.

Scott Atkinson and his son Cody recently moved to Chico from the Los Angeles area. They've never experienced a small community parade. And in their first few months, the father said this parade is a microcosm for what he has already experienced so far.

"I love it. The community and the people are nicer."

Atkinson is used to the busy, fast-paced lifestyle down south. After moving to Chico, he said he is yet to have a bad experience.

"People make me feel welcome here," he said. "From the moment I came here I noticed."

As the Sierra Nevada Brewing Co. semi-truck rolled by, honking its horn, Atkinson let out a holler and gave a few claps. But it wasn't just because he likes the beer; he was excited to be there and was showing his enthusiasm.

"I've been clapping at everybody," he said. "But I do support them."